magento developer CONSULTATION
Looking for a featured, easy-to-use, user-friendly and highly effective ecommerce store? Hire our best Magento engineers to make an amazing difference.
Magento Development Services
Our magento development services include magento 1 & magento 2 platforms. So, if you want to hire magento 2 developers in the market, you can rely on our experienced magento 2 editors who can help you with both magento community and enterprise edition. Our Magento engineers have gained experience and skills in providing magento development services from content development to third-party integration.
Payment is made at the expense of fixed project costs for large projects with specific needs.
Charges are made for the time spent by the team on small, short-term projects, especially for maintenance and development.
Payment is made periodically as monthly for long-term and hundreds of projects.
HIRE MAGENTO DEVELOPERS AS PER REQUIREMENT.
Looking for a featured and highly customized B2B or B2C ecommerce store? Our Magento developers can test the power of the open source Magento they can provide.
Magento theme Development
Looking for a white theme labeled Magento for your website? BLUTRAIN is the name you rely on. We deliver theme on time.
fully manage the development of the previous Magento theme controlled
magento extension development
If you are looking for a Magento extension for your personal ecommerce store or looking for a custom Magento extension to simplify your SAAS services, we can build it for you.
Our team makes a smooth transition by creating corridors so that the visitor has a design for use that looks beautiful and unusual.
Magento Website maintenance
our team offer real-time maintenance of your website and performance enhancements available at the Magento expert table.
We know that the magento platform supports many types of currency, so our team ensures that the integration of your payment gateway is improved.


Why choose the BLUTRAIN to hire Magento Developers?
Want to hire a talented Magento programmer? From Planning to Project Development, we have it all for you.
BLUTRAIN is one of Magento Development's leading companies in designing and developing websites in Magento. A member of our team is an expert at BLUTRAIN and is committed to improving Magento websites in the best possible way. We'll analyze your business, plan accordingly, and make a website development using the latest Magento features. Find Magento engineers to be employed at BLUTRAIN and enjoy high quality service and high benefits.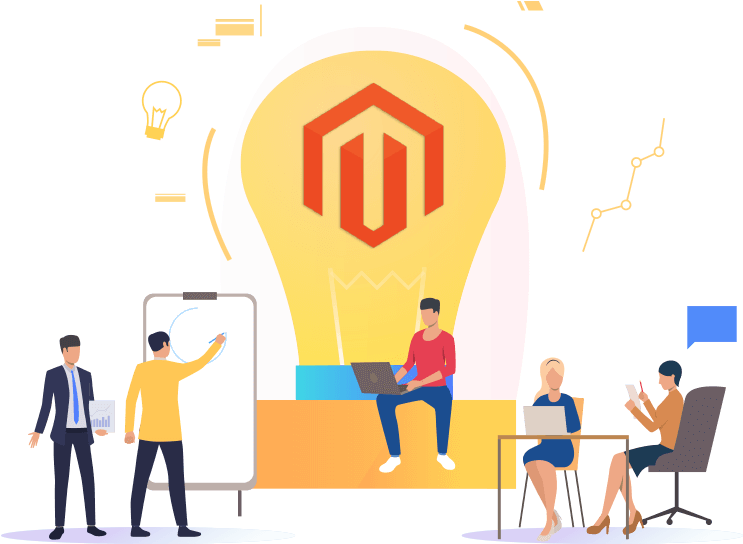 request a cv to hire magento developer for your project.
Let's write a story about growing your business by providing new, exciting and driven IT solutions. Do you have a strong vision for
change in the world? Do not hesitate, share it with our experts and we will help you achieve it